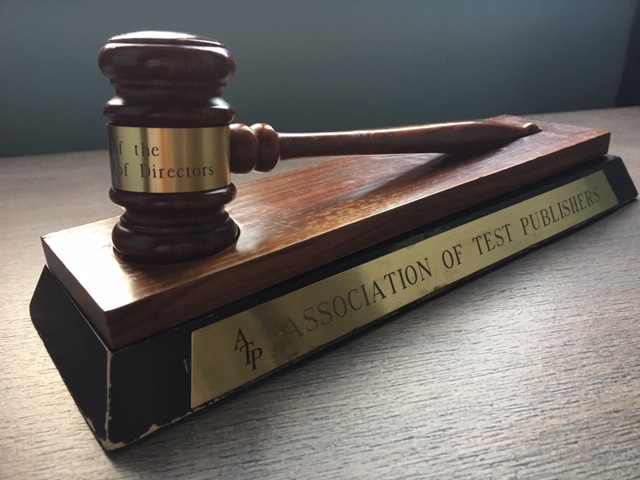 Call for ATP Board of Directors Nominations is Open
 Deadline is August 31, 2020
The Association of Test Publishers (ATP) invites members to nominate individuals for the 2021 ATP Board of Directors.   You must be a regular member in good standing to make a nomination. The Deadline for nominations is Monday, August 31, 2020.
Who is the ATP Board of Directors? The ATP Board of Directors consists of a core group of thirteen individuals who serve without pay and who are elected from the Regular membership. The By-Laws specify that, at all times, there should be at least one Board member from each of the Practice Area Divisions represented by the organization and from each of the Regional Division, [unless none was nominated from any one area.]  Since the Chairperson serves a three year service sequence and remains on the Board for that sequence, there can be up to fifteen voting board members. The term of office for each member of the Board of Directors is two years. 
Who can run for the ATP Board of Directors? Only individuals who are employed by a Regular member, or who are Regular members by virtue of being self-employed or in a partnership, are eligible to be elected as a Director. No more than one individual from a Regular member may serve as a Director at one time. The members of the Board of Directors are elected by the Regular members of the Association prior to the end of the fiscal year and assume office on the first day of the new fiscal year.
What is the commitment? The Board of Directors meets at least four times each year. In non-pandemic times these meetings usually include two face-to-face meetings and two telephone meetings. Board Members travel, and register for conferences, at their own expense. The face-to-face meetings are currently being held via Zoom until further notice.  These calls take place in the fall in September or October.  The fall meeting, when ATP resumes in-person meetings, will meet in conjunction with the E-ATP Conference.  And the same for the spring call which usually takes place in February, March or April in conjunction with the Innovations Conference. There is a winter virtual meeting held in early December, and a summer virtual meeting held in early June. The Chair designates the exact time and place of all meetings. The Chair can also request special meetings so long as notice is given to each Director at least five days in advance of a virtual meeting and 30 days in advance of a face-to-face meeting. At Board Meetings, each Director has one vote. No proxy voting or attendance by proxy is permitted. Each member of the Board is required to disclose any Conflicts of Interest the individual has, or may potentially have.

Regular members can nominate themselves or make a nomination at this link: ATP Board of Directors Nomination