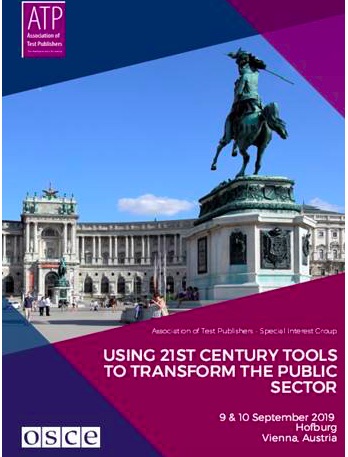 Office for Security and Co-operation in Europe (OSCE)
hosts successful conference in Vienna
Presentations now available online
The Office for Security and Co-operation in Europe (OSCE) was this year's host of the Public Sector SIG Conference held September 9th & 10th in Vienna, Austria. This year's meeting was titled Using 21st Century Tools to Transform the Public Sector and was attended by more than 135 public sector professionals representing more than 20 countries.
OSCE Chief of Recruitment, Gustavo Arajuo, served as 2019 Public Sector SIG Chair, presiding over the one and half day conference held at the Hofburg Congress Center.  Keynoters included Antoinette Oglethorpe, an award-winning leadership development consultant, and Johnny Campbell, co-founder of Social Talent, a talent acquisition training platform used in the private sector to up-skill and re-skill their recruiters.
"The OSCE is currently licensing its recruiters to become certified 'sourcing ninjas' via Social Talent, so we were obviously very excited to meet Johnny in person and introduce him to a wider audience," Arajuo noted in the programme.  "And Antoinette was a contributor to the award-winning Virtual Career Labs at the United Nations Development Program, which won two Fuel50 awards in 2017 as outstanding career management initiatives.
The conference featured eighteen presentations and two general sessions. Next year's meeting host has not yet been finalized, but will be announced very soon. Presentations from the 2019 meeting can been accessed at this link:  2019 Public Sector Presentations.
[For more information contact [email protected]]