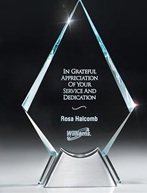 ATP Awards Nominations Now Being Accepted
The ATP Awards Committee is accepting nominations for ATP's two prestigious awards: The Career Achievement Award and the Award for Professional Contributions and Service to Testing. Heading up this year's awards committee is ATP 2017 Chair-Elect Nikki Eatchel of Scantron.
Eatchel announced that anyone interested in being nominated, or making a nomination, can learn about these two awards by visiting ATP's Wall of Honor and then go to the nomination form from the link provided. Eatchel noted that these awards are open to non-members - but only ATP members can make a nomination. The deadline for nominations is September 1, 2015.
The Career Achievement Award
, which has been a
warded since 2001
honors individuals who have made sustained and positive contributions to the development, application and innovations in testing and measurement through research, publications, presentations, professional activities, technology, conceptualizations, or theoretical contributions over a career.
The
Award for Professional Contributions and Service to Testing, which has been a
warded since 2007,
honors individuals who have made a positive impact on the industry of testing through professional contributions and service. Applied and professional contributions may include sustained leadership in the testing industry and professional contributions through presentations and service that have improved testing. They may also include contributions that have improved the applications of testing, influenced professional standards and practices, and increased public understanding of testing, advocacy or other relevant contributions to the industry and profession.
The awards are presented at the Annual Innovations in Testing Conference. This year's Career Achievement
Award winner was Dr. Betty Bergstrom (photo on left) whose influential work on Decision Consistency and item selection algorithms has helped licensure and certification programs transition to computerized adaptive testing for more than 20 years.
The Award for Professional Contributions and Service to Testing went to ATP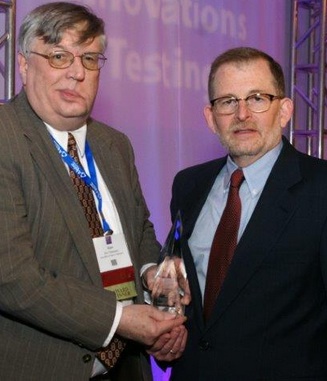 Legislative Counsel Alan J. Thiemann (photo on right) who played an integral role in the formation of Association of Test Publishers and has advocated for the testing and assessment industry over the course of his career on issues including patent and trademarks, Digital Copyright and Licensing, human resources issues, and the Americans with Disabilities Act.

[For more information on the ATP Awards or for assistance in making a nomination, contact Nikki Eatchel or Lauren Scheib.]