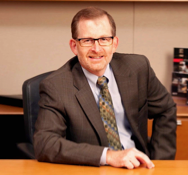 HMH Executive to Lead ATP
as 2015 Chair
Leading the 2015 ATP Board of Directors will be Doug Becker, Vice President of Houghton Mifflin Harcourt's newly created Assessment Studio where he oversees and guides all test development, research and psychometric activities. Dr. Becker has served on the board of the National Council on Measurement in Education, the editorial board of Applied Measurement in Education, as well as the Board of Directors for the Association of Test Publishers (ATP).
Prior to rejoining HMH, Dr. Becker served as ACT's Senior Advisor for Content, Learning, and Measurement; he also served as Vice President, Development with ACT's Education Division for over eight years. In this capacity, he managed, directed, and coordinated all education-related test development activities. Dr. Becker oversaw the development of assessments for resident and contract programs as well as participated in the development and implementation of an integrated applied research agenda that supported the design and development of ACT's assessment programs. Other prior work experiences include the National Board of Medical Examiners and the American Council on Education–GED Testing Service.
Dr. Becker triple majored as an undergraduate earning a Bachelor of Music (magna cum laude) in music education, while also completing major requirements in mathematics and music composition at Illinois Benedictine College. He then went on to complete a master's degree in music composition from Northwestern University. Dr. Becker taught mathematics and music for four years prior to pursuing his doctoral studies. Dr. Becker completed his PhD in educational measurement and statistics at the University of Iowa where he was a Special Research Assistant with Iowa Testing Programs for four years.