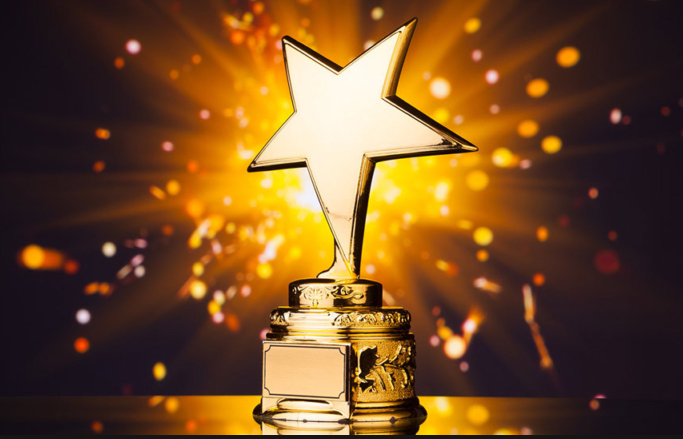 ATP 2020 Award Winners Announced:
 John Oswald and Alina von Davier

"We are incredibly disappointed that this year's ATP Award winners will not be receiving their award in April at the 2020 Innovations in Testing Conference as previously planned. Nonetheless I can think of no two more deserving winners of these awards," said ATP CEO William G. Harris in announcing this year's winners of the ATP Contributions and Service to Testing Award and the ATP Career Achievement Award.

This year's winner of the ATP Award for Professional Contributions and Service to Testing is former Chairman of the ATP Board of Directors,  John Oswald, CEO of The Oswald Group, LLC; and this year's winner of the ATP Career Achievement Award is ATP Board member Alina von Davier, Senior Vice President, ACTNext by ACT, Inc.

John Oswald has been in the educational testing business for 48 years, and has held leadership roles in Harcourt Assessments, Riverside Publishing, and Educational Testing Service, among others. Since retiring from ETS, he is providing consulting services to the field through The Oswald Group, LLC. His work included almost every aspect of student and teacher assessments, such as test development and psychometric research,sales, marketing, communications, public affairs, customer service,information technology, operations and general management. He provides educational leaders advice on policy and how to design andbuild the best assessment systems. He was on the Board of Directors for the Association of Test Publishers, twice as chair. The first Innovations Conference occurred during John's chairmanship. He is also a Director for the National Network of State Teachers of the Year,where he currently serves as Treasurer.  John took over ETS's fledgling K-12 assessment business and built it from $30 million to $200 million in revenue. This was done through strategic vision, motivating staff, and instilling a sense of financial accountability throughout the organization. He diversified Riverside Publishing (now Riverside Insights) from a one-product company (Iowa Tests) to a significant publisher of clinical tests, guidance products, and software, as well as a contractor for development of state criterion referenced assessment programs, taking it from $30 million to almost$100 million in seven years, with profit margins consistently over 20% .He led six successful acquisitions and integrated their cultures with the parent. In each case the acquired business was fighting the corporate culture of the parent company, at significant cost of productivity and performance. After integration, each division was considered an exemplar of cooperation and embraced the corporate agenda and culture. John created a culture of high performance and financial accountability in the development and delivery of state assessment programs, first at Harcourt Educational Measurement, then at Riverside Publishing, and finally at ETS. Each company had essentially no presence in the state assessment marketplace prior to his creating a strong client-centered,responsive corporate culture in the design, development and delivery of exemplary state assessments.
John recruited and developed a number of high-performing executives n the publishing industry, including four current and former company presidents as well as a number of other senior managers who now hold important positions in testing and educational publishing companies. Throughout his career, John used political contacts and public relations to influence significant educational legislation and policy.
John earned his bachelor's and master's degrees and Ph.D. candidacy from Fordham University. He has been married to Rosalie Oswald for49 years and they live in San Antonio, Texas. John and Rosalie have four grown children and eight grandchildren, each of whom loves to take tests!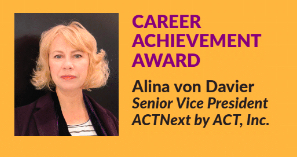 ACT Senior Vice President, Alina von Davier, PhD.,leads  ACTNext, a multidisciplinary innovation unit at ACT Inc. Von Davier is a pioneer in Computational Psychometrics, an emerging interdisciplinary field concerned with the application of theoretical psychometric models and data-driven computational methods for multi modal, large-scale/high-dimensional learning and assessment data. Von Davier's unique approach drives ACTNext's development of innovative solutions to challenging problems, and challenges the ways in which assessment is traditionally thought of. Her current research interests involve developing methodologies in support of adaptive learning in virtual environments that allow for collaboration,using techniques incorporating machine learning, data mining, Bayesian inference methods, and stochastic processes.Two publications, a co-edited volume on Computerized Multistage Testing (2014) and an edited volume on test equating, Statistical Models for Test Equating, Scaling, and Linking (2011) were selected as the winners of the Division D Significant Contribution to Educational Measurement and Research Methodology award at American Educational Research Association(AERA). Additionally, she has written and/or co-edited five other books and volumes on statistic and psychometric topics. She has received significant grants and contracts as a Principal Investigator; funding sources have included the National Science Foundation, the Spencer Foundation, the MacArthur Foundation, the US Army Medical Research, and the Army Research Institute.Prior to leading ACTNext, von Davier was a senior research director at Educational Testing Service (ETS) where she led the Computational Psychometrics Research Center. Previously, she led the Center for Psychometrics for International Tests, where she was responsible for both the psychometrics in support of international tests, TOEFL® and TOEIC®, and the scores reported to millions of test takers annually. Von Davier is currently an adjunct professor at the University of Iowa and Fordham University, and the president of the International Association of Computerized Adaptive Testing (IACAT). She currently serves on the board of directors for the Association of Test Publishers (ATP), and she is also a member of the board of directors for Smart Sparrow and of the advisory board for Duolingo. She earned  her master of science degree in mathematics from the University of Bucharest, Romania and her doctorate in mathematics from Ottovon Guericke University of Magdeburg, Germany.