ATP Takes Aim at Intellectual Property Theft and Cheating With New Publication
by Jake Vogt, ATP Writer
The Association of Test Publishers' (ATP) Security Committee announced the release of, Assessment Security Options: Considerations by Delivery Channel and Assessment Model. The publication is a must-read for anyone who develops assessments or who oversees an assessment program.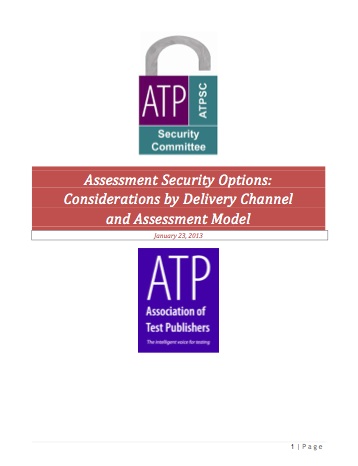 "Assessment Security Options" provides an overview of general security considerations, currently available exam delivery methods, and typical exam delivery channels. These sections provide context for the security solutions discussed in the remainder of the publication, which include various methods and tools for both detecting and preventing fraudulent activity.
The publication was authored by the ATP Security Committee (ATPSC), which provides a forum to encourage assessment organizations to collaborate in addressing test security concerns.
ATPSC Chair Nikki Eatchel, vice president, program management at Questar Assessment, Inc. notes in the introduction: "Attention to security concerns within the industry has grown and expanded with the ongoing enhancements to technology available to assessment providers and the test-taker population. 'Assessment Security Options' is designed to address these concerns by providing an overview of available delivery channels and assessment models, along with the procedures and "best practices" currently in use to enhance security.
Security procedures covered in the publication include: Data forensics and fraud detection; randomization; item pool flooding; continuous publication; Computer Based Testing (CBT) / Internet Based Testing (IBT) blended delivery; answer key/delayed scoring; fraud detection items; and results hold.
To obtain a free downloadable copy of the publication, ATP members can log in and go Guidelines/Surveys in the Members Only section of the website. A printed version can be purchased for $10.00 by members or nonmembers in the ATP Storefront of Createspace.