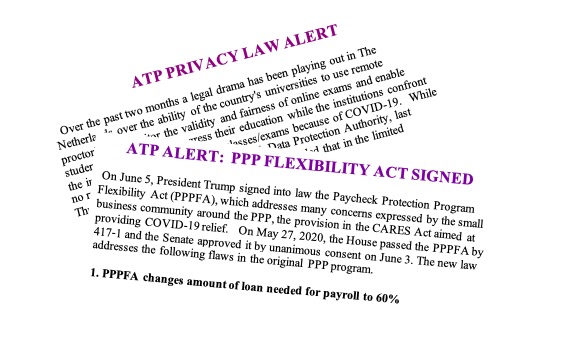 ATP Continues to Advocate for
the Testing Industry and
Keep Members Informed
"The pandemic, the cancellation of in-person conferences and standardized testing, shelter-in-place orders, the cancellation of classes from primary schools to higher education, has all had a chilling effect on the assessment industry.  But now is not the time for fear-of-the-future, or for paralysis to set in," said ATP CEO William G. Harris, Ph.D.,  "If anything, the work of ATP and its members has become more important than ever."
Dr. Harris noted that despite all that is happening, " the beat " goes on within ATP.  "We have been doubling our advocacy efforts, both in lobbying on the federal level here in the U.S. for financial assistance for assessment providers and small businesses, as well as providing guidance documents for our global members being impacted by the shift to online e-learning and testing."
Since April ATP has been a member of a Coalition of educational publishers, assessment companies and education service providers that has been monitoring and responding to various proposes economic stimulus legislation, such as the CARES Act.  ATP's General Counsel Alan Thiemann reported that the Coalition was established in order to seek federal financial relief for education service providers. Two letters have gone out from the Coalition to Congressional leaders and two alerts have gone out to ATP members outlining provisions in the CARES Act , including a provision for $350 billion in small business loans.
Thiemann reported that ATP continues to be extremely active in monitoring and responding to both national and International privacy initiatives. 
Within the U.S., Thiemann noted,  ATP has sent out Legal and Legislative Alerts informing members on many specific points regarding the different state initiatives.  He reported that California still has no final regulations for implementing the California Consumer Privacy Act (CCPA) even though enforcement was supposed to begin on July 1.  He also noted that ATP filed comments in Massachusetts and that the chance for federal legislation on privacy is not likely at this time due to COVID-19.
In terms of International Privacy issues, Thiemann pointed to the newest publication released by ATP's International Privacy Subcommittee: Privacy Guidance When Using Video in the Testing Industry, which is now available in the ATP Bookstore.  The Guide addresses what every testing organization should consider about the use of video in remote protoring. ATP followed up publication of the video surveillance document with a webinar, Privacy and the Legal Landscape for Remote Proctoring, which focused on a recent court case in Amsterdam in which the court sided with the University allowing continued used of remote proctoring software which met the GDPR requirements.

Thiemann also reported that, earlier in the year, ATP sent a letter to the Canadian Privacy Commissioner telling them how important Artificial Intelligence (AI) is for assessment and answering conceptual questions about structuring privacy around the use of AI. 

ATP's Chair John Weiner of PSI reported that work has continued with renewed vigor on an update of the ATP/NCTA 2015 Proctoring Standards. He noted that this project has taken on a pre-eminent role due to COVID-19, and that the 45 members of the Working Group have been looking at a draft and providing commentary.   This issue (proctoring) has leapt to the forefront, and we need to be very vigilant...a seismic shift just occurred and this (proctoring standards) needs to be at the forefront," Weiner remarked.  He noted that in early April, ATP made public a Privacy in Practice Bulletin focusing on Remote Proctoring.  "This is a publication," he said, " which is usually reserved as an ATP member benefit, but due to current events, ATP released the publication as a public service."
Finally, just this week, ATP published an Legal Alert to members discussing the decision on July 16 by the European Court of Justice in invalidating the EU-US Privacy Shield, a self-certification program for US companies to enable the exchange of personal data from the EU to the US.  While the Privacy Shield has been in place for several years, the Court found that the existence of US national security intelligence surveillance fails to protect the basic privacy rights of EU residents.  In the same ruling, the Court upheld the use of Standardized Contractual Clauses between US and EU companies for data transfers, but noted it is up to data exporters and importers to check and verify data protection mechanisms of "essential equivalence" to the EU in the US (or other target countries) first -- as well as report any issues. EU data protection regulators may then step in and suspend data transfers.  This outcome may create serious issues for US testing organizations who have relied on the Privacy Shield of SCCs to receive EU data, including test data.
 ATP's long-standing tradition of advocacy has actually expanded during the COVID-19 pandemic.  Keep monitoring the Legal and Legislative Alerts and publications for more news and information critical to your business.