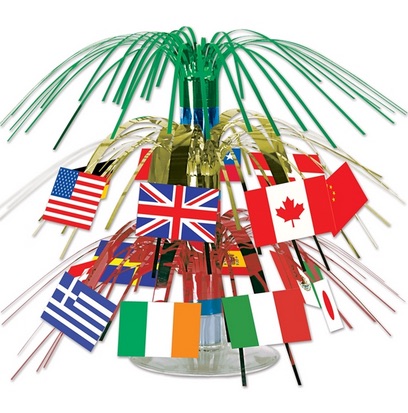 ATP Holds First International Luncheon
China's Professor Houcan Zhang Honored as Global Citizen
To celebrate ATP's growing internationalization, an International Luncheon was held at this year's Innovations Conference. "This event surpassed our expectations," remarked ATP CEO G. Harris. "We were truly honored to have one of China's most prestigious and well-known academician's join us for this inaugural event in which all of the ATP's International Regions were celebrated."
"The event was also an opportunity to thank ATP's Multi-Region Members who have supported the regional development of ATP for the past three years," Harris added.
At the well-attended luncheon, each region gave a presentation regarding their accomplishments and goals. Alex Tong of ATA Testing Authority presented on behalf of Asia-ATP, Cicek Svensson of Comms Multilingual presented on behalf of Europe-ATP and G. Harris presented on behalf of India-ATP.
Alex Tong gave an overview of progress made in Asia including the publication of a White Paper on Standard Practices for Large Scale Assessment Programs and the launch of Asia's first Test Security Survey. He also reported that the Regional Organization is ready to launch a series of Testing Industry "Breakfast Roundtables" that will take place across four cities.
Cicek Svensson reported that plans were underway for E-ATP's Lisbon conference scheduled for September 28-30. This year's theme for the "Gaining Advantage Through Assessment Conference" is Assessing and Developing Lifelong Learners -- a theme, which crosses all of ATP's practice constituencies from education and training, to certification and workplace skills, to accurately evaluating an individual's fitness for employment and determining the emotional and cognitive fitness of individuals.
G. Harris reported that plans were underway in India for a 2016 conference at the Habitat Centre in New Delhi, November 10. He reported that last year's conference, which was carried out in academic partnership between India-ATP and the Association of Indian Universities (AIU) had been a well-attended and well-received event.
The highlight of the luncheon was the recognition of Professor Houcan Zhang of China as a Global Citizen in Testing. Her story,
outlined in the ATP program book, consisted of a lifetime of advocacy for the filed of of assessment to remain as a discipline within the field of psychology. Professor Zhang, who began her career as a psychology professor found herself in a position of having to advocate for assessment at a time in China's history when the assessment of individuals was frowned upon by prevailing attitudes. When social norms were shifted in the 1980s following the Reform and Opening up Policy of the Chinese government, Professor Zhang found herself in an urgent teaching position to bring the discipline of cognitive assessment in China back up to contemporary standards. She did this by tirelessly traveling, and giving workshops city by city throughout China -- and also authoring important texts in both Chinese and English. Today, Professor Zhang is hailed in China as the "Mother of Assessment."
"We were honored and delighted to have Professor Zhang join us for the Innovations Conference, " remarked ATP's 2016 Chair Andre Allen in presenting her with the Global Citizen Recognition Award.
Watch the trailers below that were shown at the Luncheon.
India-ATP:
Movie The Future of Educational Assessment in India from Lauren Scheib on Vimeo.
Europe-ATP:
Mark you calendar for E-ATP 2016 from Lauren Scheib on Vimeo.
Asia - ATP:
Asia-ATP from Lauren Scheib on Vimeo.