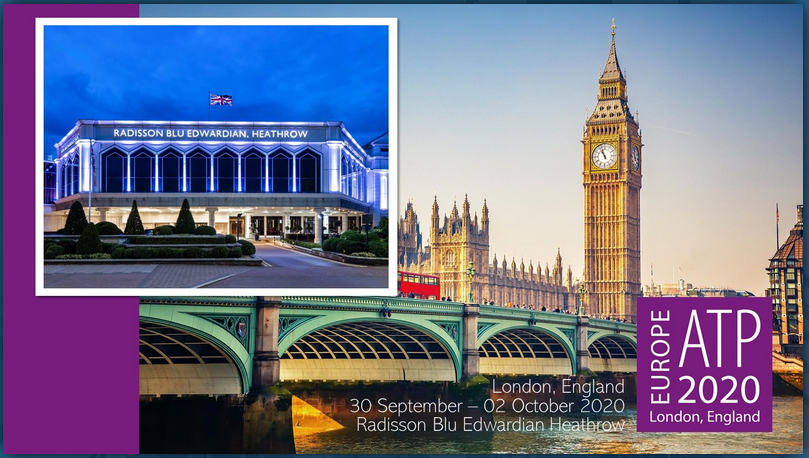 The European-ATP Conference 2020 Continues to Plan Late
September Conference
This Year's ConferenceTheme : Advancing Assessments with Integrity.
With the Call for Papers open and despite fears of a prolonged COVID-19 impact, the European-ATP Conference Planning Committee is continuing its plans for a late September event outside London at the Radisson Blue Edwardian Heathrow, 30 September thru 2 October 2020.  An added feature of this year's conference will be a Security Summit planned for the morning of September 30th.
"We don't have a crystal ball - and business moves forward...we do have a virtual contingency plan for the Innovations in Testing Conference (which was cancelled earlier this month), and one option, should we wind up in a worst case scenario in the fall, would be to carry that option to Europe. We are an industry of innovators and we should not lose sight of that in these difficult times," ATP CEO William G. Harris, remarked.
A highlight of this year's European conference will be the inclusion of a first-ever Security Summit focused on Breach Management. The Summit will include invited speakers and sessions on how to prevent a breach, how to respond to a breach and what an organisation should do after a breach.  It will also include sponsorship opportunities.

This year's E-ATP Conference topics will include: Micro credentialing and the digitisation of credentials; Personal data, Test Security and Integrity; Emerging Technologies: Challenges and Opportunities; Artificial Intelligence (AI), Machine Learning, and Cognitive Computing; Adaptive and Customised Assessment; Equity, Accessibility, and Diversity & Inclusion; Assessment standards and Benchmarks; The Business of Certifications, Qualifications and Accreditation;  Internationalisation of Assessment Programmes; And, Understanding your Candidate.
The Call for Papers will be open until April 10.