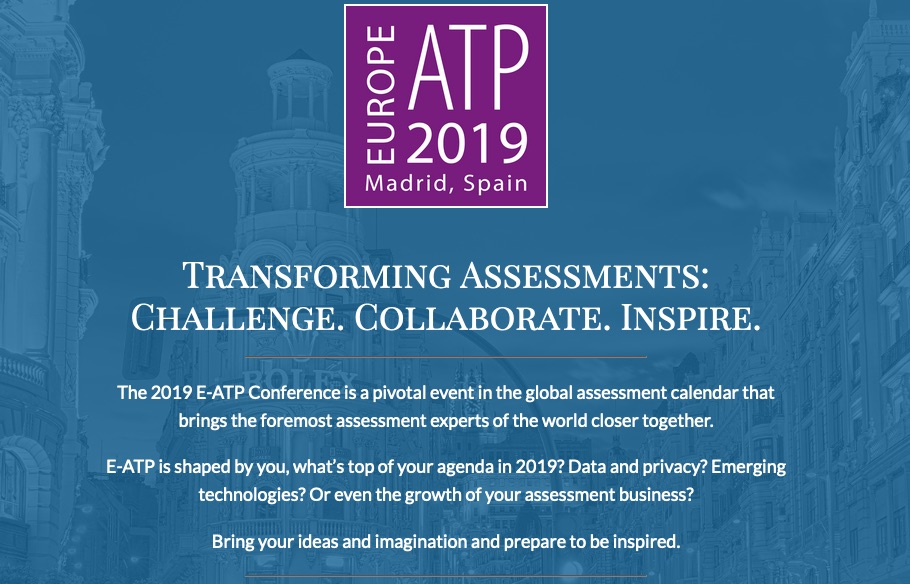 Europe-ATP Ready to Launch 2019
Conference in Madrid: Transforming
Assessments: Challenge. Collaborate. Inspire.
Panel of CEO's will ponder the impact of digital upheaval in the assessment industry.
This year's E-ATP conference, scheduled for 25-27 September 2019 in Madrid, will feature two keynote presenters as well as a panel of industry CEO's who will discuss the impact of digital upheaval in the assessment industry.
"These presenters, and especially this panel of CEO's, are highlights that delegates to this year's E-ATP will not want to miss," remarked ATP CEO William G. Harris.
The panel session will take place on the first day of the conference and will be moderated by Questionmark Founder and ATP Board Member John Kleeman. He will moderate a panel of notable leaders on Ed Tech's role in reinventing assessments. Panelists include:  Norihisa Wada, CEO, EduLab, Inc.; Marten Roorda, CEO, ACT; Sangeet Chowfla, President and Chief Executive Officer, Graduate Management Admission Council®; Saul Nassé, CEO Cambridge Assessment.
Keynoters will inform and energize
Also on the first day, Keynoter Lewis Garrad, Partner and business lead for Mercer's People Science consulting practice, will deliver a talk aimed at pulling apart some of the trends impacting the future of talent and the future of jobs.  He will lead delegates to reflect on what those changes mean for how we think about the tools we use to study human capability and behavior.
Voted a top 101 Global Employee Engagement Influencer, Garrad is a regular contributor to publications such as the Harvard Business Review, Talent Quarterly and HQ Asia in the areas of HR data, employee engagement and leadership.
And on the final day of conference Dr. Peter Lovatt, with a background in both dance and cognitive psychology, will take attendees on a thought-provoking and entertaining exploration of the psychology of movement and how it affects uniquely human skills such as creativity and divergent thinking. As a presenter, Lovatt is known for "energising the room" as he talks about how changing the way we think can change our lives and he explains how our creativity and problem-solving abilities are influenced by our mood and emotions. He will also talk about how he overcame a severe reading difficulty and yet went on to become a successful Cambridge University academic.
Registration is still open for E-ATP 2019 - the full programme is online at http://www.eatpconference.eu.com/index.aspx